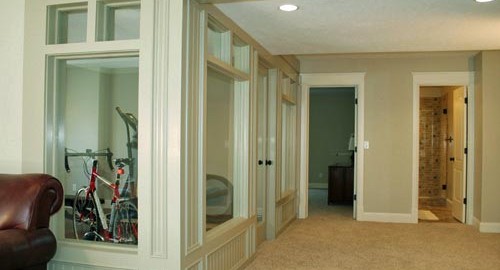 When we meet people for our first consultation, we're often asked, "can I save money if I do some of the work myself?" The obvious answer is yes, of course, but my follow-up question is, are you sure you want to?
The most common element people would like to do themselves is painting. It seems simple and for the most part it is. The thing about painting is that it's not very expensive. For single tone painting we pay $1.15 per square foot. Once you buy the paint  and supplies for the job you may save $.75 a square foot on your basement.
The cost savings for painting is minimal and the value of a solid paint job cannot be understated. It is basically the last thing we do to your basement (other than floor coverings) and can make the job look fantastic or mediocre. There are so many little things that make a paint job great and can easily be missed if you're not experienced. Things like having straight lines at color changes, small runs in the paint, uneven back rolling, failure to back roll, uneven paint that leaves a striped look when seen from an angle and chunks of paint in the finish from not keeping your spray nozzle clean.
We're happy to let you paint and do other non regulated work in your basement. Often though, it is more efficent and you get better results that you'll be happy with if you let professionals do the work.
We'd love an opportunity to bid your basement finish. Call us for an appointment. The consultation and bid are a free service: 801-706-0148  
http://www.basementproutah.com/wp-content/uploads/2013/08/do-it-yourself.jpg
375
500
admin
http://www.basementproutah.com/wp-content/uploads/2016/06/Basement-Pro-Utah2016Logo3-e1466028997192.png
admin
2013-08-19 09:03:53
2013-08-19 09:07:27
Doing It Yourself- Finishing Part of Your Basement to Save Money